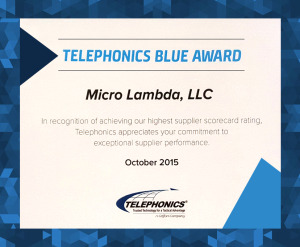 Micro Lambda, LLC was incorporated in 1979 as an authorized franchised distributor for EMC Technology. We later acquired distribution rights for Florida RF Labs, a Smiths Microwave Business, which is an internationally recognized leader in the development and manufacturing of thin and thick film RF and Microwave resistive components, signal distribution products and cable assemblies. We also offer E+ Plus, our own product line of SMA field replaceable connectors, pins, beads and hermetic seals.
Now a woman-owned company, we distribute across the USA, supporting customers in the telecommunications, military, aerospace, medical equipment, and test & measurement markets. You can enjoy one-stop shopping for all your microwave, RF and hybrid microelectric needs with our extensive inventory of products available at our state-of-the-art warehouse, as well as online 24/7.
Our Mission
Since our founding, we have stayed committed to exceptional customer service, building a loyal client base and a solid reputation as a leader in our industry. We use a "customer-first" approach with every order, knowing that knowledge is key to providing you with exactly what you need, when you need it.
When you partner with Micro Lambda, you'll benefit from:
Quality Systems/Procedures
Technical Support and Representative Heritage
Application Engineers to Back Up Our Sales Force
Toll-Free Technical Hotline 800-952-6232
ISO 9001: 2015 certified (click here to view certificate)
Immediate Response
Waffle, and Tape & Reel Packaging Services
Same-Day & Just-in-Time Delivery
Blanket/schedule orders
ESD station (electrostatic sensitive device)
Counterfeit Material Prevention & Control Documented Procedure
Our Quality Policy
Micro Lambda is dedicated to supplying products and services that meet or exceed the expectations of all our customers. Our quality system demands continuous improvement through a partnership with our customers, employees and suppliers to achieve our goal of Total Customer Satisfaction.
We have established and will maintain the following quality objectives:
Maintain ISO 9001 compliance and certification
Maintain or improve 95% on-time shipments (YTD 95%)
Achieve distribution rights for one new manufacturer
Manufacturer defects <1.0%
Customer returns < 1.0%